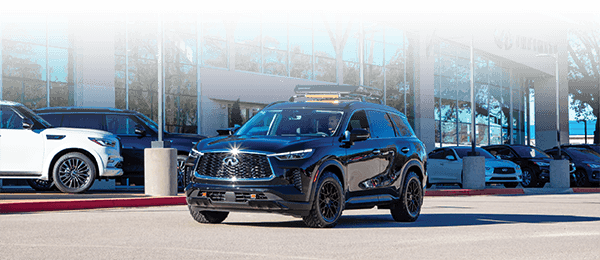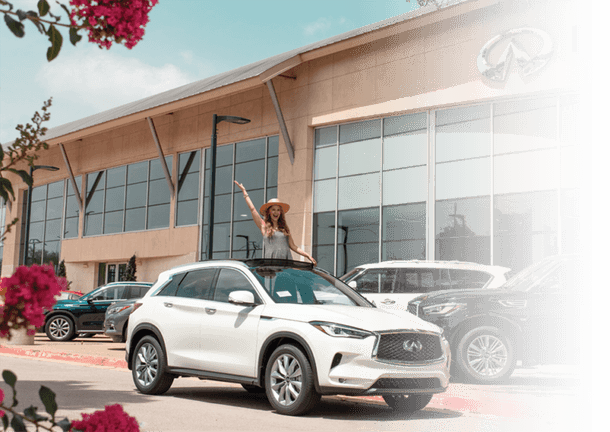 Welcome to


Austin INFINITI

At Austin INFINITI, we take pride in offering the finest range of luxury vehicles in Austin, Texas. Whether you're in the market for a brand-new car or a Certified Pre-Owned (CPO) vehicle backed by an extended warranty and rigorous multi-point inspection, or exploring our extensive inventory of other top-quality used vehicles, we're here to guide you every step of the way.Every vehicle on our lot, regardless of its badge, undergoes a thorough inspection to ensure it meets our high standards of excellence. Moreover, you'll find all our vehicles are competitively priced, guaranteeing you the best value.
Read More

Beyond our exceptional vehicle lineup, we extend exclusive benefits to our cherished customers: complimentary loan cars upon appointment, free car washes, and the convenience of online reservations. Need swift service? We've got you covered with our express service, no appointment is necessary.

But our commitment to you goes beyond mere transactions. We're passionate about creating transformational experiences, ensuring not only a seamless buying journey but also top-tier service and maintenance to keep your INFINITI performing at its peak for years to come. Our relationship begins with your first visit, evolving into a lasting bond as we prioritize your safety, satisfaction, and the enduring elegance of your vehicle.
Dave is the most helpful service advisor ever. 👍🏻👍🏻👍🏻
Service department is very helpful. LOTS of loaners.
Probably the soul reason I'll always own an INFINITI. You cannot beat the service even when I had a Mercedes.
I would highly recommend working with Lori Grutsch as your sales consultant!! She was incredibly friendly from the start, knowledgeable and answered all our questions. Exuded a nice balance of highlighting the vehicles' features and providing good financing terms. She made our experience with Austin INFINITI a pleasant one.
This was our first experience purchasing a car from out of state - we would definitely do this again! Our saleswoman Zaira D. was informative, very attentive and patient with us - she even helped us find a reliable vehicle transport company to bring the car to us! No gimmicks, no lies, and we received a great vehicle. Thank you, Zaira and thank you Austin Infinity! 😊
Cody + Tony + Josh and the team here have been absolutely amazing to work with when I needed parts or questions about servicing my vehicle DIY. They really go above and beyond. I wish I purchased a vehicle from here instead of another local dealer based on the service department alone. A++++ team here!!
I had an excellent experience with Austin INFINITI. Allan DeHoff was very professional and worked his tail off to get me the best price possible. I truly appreciate it and will recommend Austin INFINITI to family and friends.
Allan Dehoff is the man! I bought a FX35 a couple years ago from him and it unfortunately got totaled (thanks Waco) a couple months after owning it, I really liked that car and was sad to see it go. Well I finally found myself in a position to get a Second INFINITI and never did I think I would be able to get into a Q70, it was great working with Allan again, always super fast at responding and good communication. He has Helped me out a bunch and always coming through with the sweet car. Thanks INFINITI for ...
In a recent visit to Austin INFINITI, I was fortunate to meet Sales Consultant Brandon Napier. My first impression of Austin INFINITI was immediately a very positive one thanks to Brandon's kind demeanor and obviously genuine desire to focus on helping me. In my experience, it is rare to find in any walk of life, an individual who listens carefully and thoughtfully, and responds with the kind of empathy that coined the term, "putting the other person's best interest first". In Brandon's case, my intuition immediately put me at ease and I felt as if ...
Go ask for JiJi Very informative and helpful!!